---
Beyond the Outcome is a searchable collection of articles about current topics in athlete mental health. I hope this helps you as an athlete or coach in developing awareness of mental health and reducing the stigma associated with it.

...more
---
....Having said that, if you`re in athletics, there is even more of a pressure cooker, parents are on your case, coaches are on your case, your community is on your case. You`re looking at that as your big ticket item as a way to go on to the next level. You`re solely focused on it. And as a result, that creates a lot of internal stress. One hundred percent of your sense of self and
identity
is based on sport. That can be problematic because if it doesn`t go well, that`s going to be damaging to our overall ego. So there are pros and cons associated with elite sport participation, even recreational sport participation. It`s critical for each individual to have informed consent about the balance that they`re attempting to achieve within the athletic arena......
...more

Bethany`s Notes: A great Q & A with the sports psychologist from The Ohio State University, Dr. Steve Graef. I highly recommend this article for the week.
---
.....The group met on four consecutive Monday evenings for the one-hour programs. They were led in guided meditations by Somogie, reflected on what was happening in their lives, and focused on particular topics each week—like mindfulness in the body and building a practice......
.....What they took away was valuable, she said—they learned about how to handle pressure skillfully. And they learned that they are not alone, Evers said. "We had an open-ended question in the survey at the end where a lot of people said, 'I realized I need help.' And others said, 'I went to mental health services for the first time.' That alone is a huge first step," she said.
"The point of mindfulness at the end of the day is just awareness," Evers said. "If you can become a little more aware of how you are feeling, maybe it makes you realize you need more help.".....
...more

Bethany`s Notes: If you are a coaching looking to get more out of your players consider doing a mindfulness meditation weekly and see if you notice a difference as to how your student athlete respond to pressure both inside and outside of sport.
---
.....
"They have pressures to meet GPA requirements to stay on the team, sometimes to compete for athletic and academic scholarships. They have pressures to complete exams and get papers in, but there are pressures from their coaches and from the parents and these expectations can often time be unrealistic," Mercer University Sports Psychologist Dr. Tony Stillman said......
....
"One of the reasons why mental health problems in athletes are under-recognized, undertreated, and even understudied is because a lot of these problems present themselves as performance related issues," Dr. Stillman said.
His role as a sports psychologist at Mercer University is to do research and teach. Dr. Stillman said sports psychologists at schools often focus on students' athletic performances. For example: teaching them strategies to tune out noise at the free throw line, but not their full mental well-being.
...more

Bethany`s Notes: I would be interested in some feedback from sports psychologists. Are you dealing more with more mental health issues as compared to athletic performance issues? Where do you draw the line in your profession? Do you treat both? Are you expected to treat both during this day and age?
---
.....Adolescent depression, suicide, and anxiety are increasing at alarming rates. Recent studies indicate that as many as one in five teens suffers from clinical depression. As parents, we all want to see our kids succeed in school, in sports, and in life. But sometimes well-intentioned parents, on top of the intensity of comparing themselves to the unreal expectations and messages they get from social media, have created a pressure cooker for many kids. If they aren't the star athlete, or don't have a 4.5 GPA, they begin to feel that they are somehow less than. These unrealistic expectations are creating over-scheduled, depressed, and anxiety riddled young adults......
...more

Bethany`s Notes: Read the top 9 takeaways on how as a parent you can help your child balance sport and life.
---
.....Hanna's story is an important one as she highlights the pressures an athlete faces to always be the best. In order to become a division 1/2/3 athlete, you have to push your body both mentally and physically. Mental illness may be seen as a "weakness" but what Hanna has shown today is it is okay, to not be okay......
...more

Bethany`s Notes: A great article about a University of Buffalo basketball player who is speaking out and telling her story. I love her honesty and her acknowledgement of when she finally needed to reach out for more help.
---
....Stigma was the most commonly reported factor preventing elite athletes with mental health issues from seeking help, in the belief that mental ill health is a sign of weakness rather than the hallmark of a `winner` and would be seen as such by peers, managers, and the public.....
....."Coaches could be important agents for supporting positive mental health attitudes within the elite athlete environment, including fostering an environment of mental health treatment-seeking," they conclude.
Their study is one of 20 systematic reviews informing the first ever consensus on the diagnosis and treatment of mental ill health in elite athletes—also published in the special issue of the journal—by the International Olympic Committee (IOC).....
...more

Bethany`s Notes: Coaches play a huge role in helping and seeing athletes who struggle with mental illness. This study from across the ocean suggests the stigma of mental illness is very much alive and present. How can we better empower or educate coaches?
---
.....A new survey from AthletesCAN, the association of the national team's athletes, shows that 17 per cent of athletes surveyed have experienced psychological abuse — including intimidation, humiliation and fear — usually from coaches.
That number jumps to 23 per cent when talking about athletes who are retired.....
.....Jillian Roberts, a child psychologist and associate professor at the University of Victoria, told Global News that the specific signs to watch for are:
increased irritability
self-isolation
decreased academic success
a loss of passion for the sport
"Sport should be about fun and fitness and our community coming together in order to spend leisure time together," she said. "For many young people, sport means something very different — something harsh and stressful.".....
...more

Bethany`s Notes: The country to the north of us is getting an anonymous glimpse of how national athletes feel regarding coaches and their experiences with them. This is a great opportunity for coaches to self-reflect. I know I have said some things I regret in the past to former athletes. I`d like to think I have made changes to make the sport better and more enjoyable for athletes. Now I let them lead with regards to how good they want to be and also am willing to say no when it is too much.
---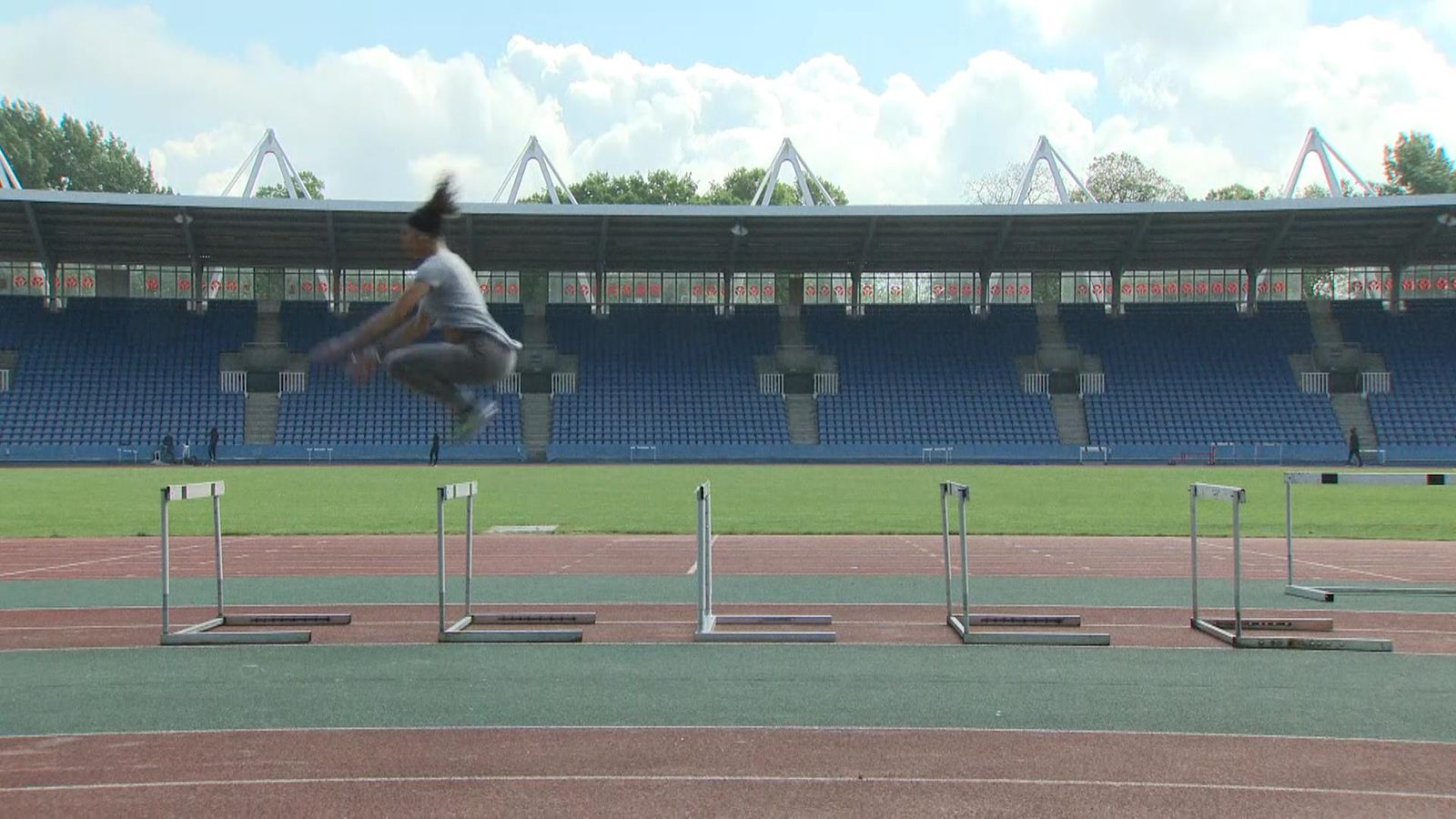 ....StreetGames says coaches have spoken about feeling unequipped to deal with the signs of poor mental health - including self-harm and suicide.
Jane Ashworth, chief executive of StreetGames, told Sky News: "Coaches across the country tell us that they regularly see signs of mental ill health in their sports projects - young people experiencing depression, anxiety, alienation and sadly sometimes self-harm and suicide. They say that they want to help but feel ill-equipped, not knowing what to say or how to direct youngsters to appropriate specialist support.....
...more

Bethany`s Notes: The UK is creating a major campaign to provide some basic mental health skills to 21,000 community sports coaches. Are we willing to do the same in our sports education?
---
....."I wish I had known it was OK to ask for help much earlier," says Holloman, a football star at Bayside High School and James Madison University before a knee injury ended his career, plunging him into a three-year depression. "I want to tell my story now so that other athletes know they can talk about these pressures.".....
.....Holloman also urges parents to promote education and nurture interests other than sports. He regrets choosing a sports management major only because it had the easiest course load, rather than possibly pursuing a talent for information technology. When his football career ended, Holloman was so lost that he briefly had suicidal thoughts......
...more

Bethany`s Notes: If you know of anyone in Virginia Beach area tell them to check out this talk on May 15th. Looks to be a good one giving personal stories but also advice on how to listen to your own kids and their interest or lack of interest in sports.
---
.....Sanders, who is now 29, felt the need to get away from the distractions of the league, an environment characterized by regular invasions of privacy and endless media obligations. In the process, he left $27 million on the table. "When you're a professional athlete, you're put on a pedestal, y'know, like you have some superpower … so there's just no time to focus on your mental health," he said.....
...."We don't know what we haven't experienced; we don't know what we can't frame from experience. Humans are different in that we can abstract an idea. I can recall traumatic events in my life like 9/11. I wasn't in New York. I just saw images. It was an abstraction, but it was traumatic," White said......
...more

Bethany`s Notes: A look at elite athletes demanding change and not backing down. Royce White has been speaking about mental illness since 2012 when he was drafted as the NBA`s 16th pick overall. He spent two seasons in the US before moving to Canada and enjoys playing there.
---
---
Thanks for your interest in Beyond the Outcome.

Brewster just recently completed her Master`s Degree in Marriage and Family Therapy. She is interested in applying systemic therapies in team and individual settings.
Players are often not only competing with other teams, they also compete with each other for positions, playing time, and, in some cases, scholarship money. These unique team circumstances can lead to conflict within and among team members, including the coaching staff. The need for more information on mental health is essential for both coaches and athletes. This website provides a gathering of information and resources to help serve the sports community.


Brewster is the current cross country/track and field coach for Edgewood College, located in Madison, Wisconsin. A highly decorated student-athlete while at the University of Wisconsin, Brewster has a total of 11 Big Ten championships to her credit. She was an All-American selection six times during her career. Post collegiately, she competed in the 1500m at the 2004 Summer Olympic Trails in Sacramento, CA. Brewster is a USATF Level 1 and 2 certified coach.
...more
Start Week: 17 - Query String:SELECT * FROM sports WHERE `issue` > 17 and volume = 7 OR `issue` > 90 ORDER BY sortorder