---
Beyond the Outcome is a searchable collection of articles about current topics in athlete mental health. I hope this helps you as an athlete or coach in developing awareness of mental health and reducing the stigma associated with it.

...more
---
.....But, according to the latest research on running and the brain, consistent running gives you psychological benefits you didn't even know existed (but should definitely care about). In "Running is My Therapy: Relieve Stress and Anxiety, Fight Depression, Ditch Bad Habits, and Live Happier," Scott Douglas, an editor of
Runner's World
and several acclaimed books on running, shows how the "cumulative effect" of running leads to lasting changes in brain chemistry that mimic the effects of anti-depressants and similar medications. The research suggests that running two times (or more) a week can stabilize depression, lower anxiety, invigorate your life, and — even more impressively — result in a "healthier brain.".....
...more

Bethany`s Notes: Get out there and run! Check out the book "Running is My Therapy by Scott Douglas and find the long term mental health benefits of this lifelong sport that you can do with others or alone.
---
....This syndrome typically appears in young people who exercise intensely, and is marked by three symptoms: low energy availability, menstrual dysfunction, and low bone mineral density. Technically, you don`t have to menstruate in order to meet the criteria for the syndrome, and male athletes can experience it too. For this reason, "female athlete triad" was recently renamed "relative energy deficiency in sports" or "REDS." Basically, REDS is what happens when your energy output surpasses your energy input to a point where it negatively affects your mental and physical health......
...more

Bethany`s Notes: What was once recently thought to only affect women also affects men. It is not something we will think of as parents, athletes or coaches but something we should be aware of and talk about.
---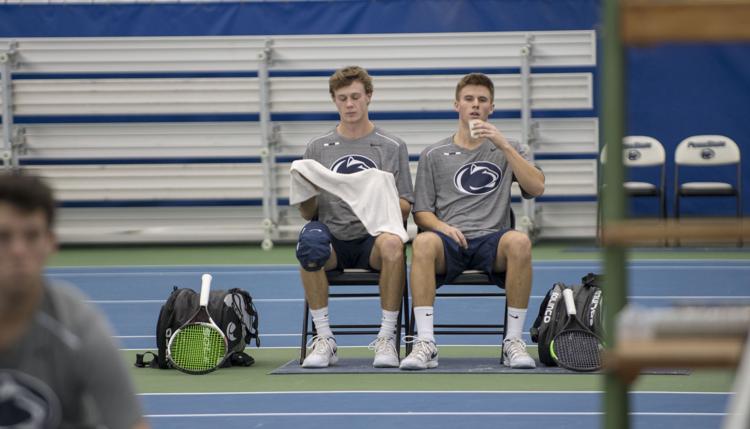 .....Associate head coach Paul Tobin knows the pressure a player can feel, particularly at the collegiate level.
"You have to keep coming out here day in and day out with that belief that you can do it," he said. "If you ever come out here not thinking that you can be in the lineup and you're just out here to practice, then you know where you're gonna go."....
.....Reflecting back on those trying times, Kuhnle is grateful for the break he took off to gather his thoughts. He took a risk by sacrificing valuable time as a high school athlete, but he wound up playing his favorite sport at his dream school.
"I think it was the best decision of my life."....
...more

Bethany`s Notes: Sometimes you need a break to fully understand what you love and why you play. That break can allow you to sometimes come back even stronger.
---
....Five Mental Health Vitamins for the Student-Athlete
Eliminate the Dream-Stealers and Naysayers!

What is Within You is FAR GREATER than What is Outside of You!

I am Afraid; I May as Well Quit!

Don't Be Surprised at the Mental Toll of an Injury!

The Biggest "Tool" in the Box is Self-Talk!
...more

Bethany`s Notes: A great read for all athletes at any level. You are in control of your own mental health. Keep your dreams alive and also know when to ask for help.
---
In the fall of his junior year at Indiana University, distance runner Jackson Bertoli was suffering from deep depression. He couldn't voice the words to his girlfriend, so he texted her as she sat beside him: I'm feeling suicidal....
....What I`ve seen in the last decade, really, is performance issues run amok, turned into generalized anxiety disorder," Dr. Sholefield said. USC now has four full-time licensed psychologists and a part-time sports psychiatrist working with athletes.....
....About 30% of athletes come in with sports-performance issues and 70% with mental-health concerns, Dr. Commander said. But most of the 70% have depression or anxiety related to the time demands and pressure of being a varsity athlete, he said.....

...more

Bethany`s Notes: Another personal experience by a former runner at Indiana University. College is challenging and being a student athlete has even more challenges. How are we going to tackle these issues?
---
.....What experts know is this: Recent studies place suicide as the third leading cause of death for college athletes, behind motor vehicle accidents and medical issues.
And nearly 25 percent of college athletes who participated in a widely touted 2016 study led by researchers at Drexel University displayed signs of depressive symptoms.....
.....Isaiah began meeting with her (a therapist). He told her about his deepest emotions. Together, they focused on why he was playing football. Was he doing it for himself? Or because excelling on the gridiron was something others expected and wanted of him?
Once, he went into a private room near her office and cried.
The therapy helped. He told his mother that the sessions were keeping his life from crumbling. What he didn't tell her was that he had begun to have suicidal thoughts......
...more

Bethany`s Notes: The real and honest story about Isaiah Renfro.
---
.....
Fagan, who played basketball for the University of Colorado, was able to directly address the student-athletes in the room, who formed the majority of the crowd.
"The hardest thing I've ever done in my life was play college sports and I don't think it's something I'd ever do again," Fagan said.
Fagan thinks college athletic departments do not have enough conversations about the stresses that come with being a student-athlete.....
....Fagan said perfectionism in athletics can often seem positive, however, many fail to understand there is a downside if an athlete can no longer reach the level of perfection they strive for.....
...more

Bethany`s Notes: Another great read by Kate Fagan. Everyone is different and needs different feedback and support and realistic expectations.
---
The low point for Sarah True came last summer. A year removed from being forced to bow out early in the race at the 2016 Rio Games, True fell into a dark, deep, depressive state.
True is no stranger to depression — the two-time Olympic triathlete had been battling the disease since she was a teenager. But this was a hole more cavernous, more dark and more hopeless than she had ever fallen into.
She felt she was a failure. As an athlete. And as a wife, convinced she failed her husband Ben True, who missed qualification for the 2016 Olympic team. Triathlon wasn't fun anymore. Life outside sport had no joy. Her training suffered. She couldn't sleep. Suicidal thoughts ran through her mind......

...more

Bethany`s Notes: Sarah True gives some tips for dealing with depression while being an athlete at the end of this honest article. Read her experience and those of others.
---
A courageous Jenna Winokur overcame mind-numbing grief and found a way to embrace life again after the death of her beloved brother, Jake Lord, a talented athlete who took his own life seven years ago after suffering several concussions playing sports.....
....."We are starting to see a shift, which I am working to do," she said, "but the mentality around this for so long was: 'You are tough. You are a football player. Just get back out there. Brush it off and play.' How many concussions went unrecognized in all our youth athletes? We are all educated on the seriousness of concussions."....
...more

Bethany`s Notes: The story of how a family member continues a memory of hard work and determination in the face of tragedy. The family hopes for continued awareness for all youth players in any sport.
---
.....The environment for coaches, managers, and other leaders in high performance sport is characterised by exactly this type of intense and continuous scrutiny – as well as perennial
j
ob insecurity
and unrealistic expectations from fans and the media. This is often based on historical and therefore irrelevant performance. These people also operate in a situation in which performance is judged entirely on the basis of what other people do or don`t do. And often an incredible amount of time is spent away from home and family......
...more

Bethany`s Notes: I find it interesting that the job security for a coach, manager and other leaders in elite sports is based on pretty much outcome alone. What a stressful situation no only for those individuals but also for the families as well. Is there another criteria that might be helpful here? Or where do we send these individuals to get additional help they might need to deal with the pressure and anxiety they face?
---
....Sims, now a senior research fellow at the University of Waikato in New Zealand, has become one of the leading voices pushing for greater consideration of sex and gender in sports science. She co-founded Osmo, a hydration company that formulates products customized for men and women. In 2016, she published
Roar
, a training and nutrition guide aimed at women.
"I didn't think I would be sitting here in 2018 still talking about how we need to have this conversation," Sims says. "Women are not little men. When you look specifically at our physiology and genetic profile, and when you adjust our training and nutrition to account for those factors, we get better performance outcomes."....
...more

Bethany`s Notes: Although this is not specifically mental health related it does apply to how we treat men and women as athletes. Most of the research is based on men and how their bodies respond....does this apply to mental health as well?
---
The jump in competition from high school sports to college sports can be stunning....
.....How you respond to that adversity will have a major impact on your career as a college athlete.....
.....Becoming a college athlete can be one of the hardest changes you make in life because you get so many new things thrown at you at once. If you go to a school that is far from home, then that difficulty can compound. But many before you have done it successfully, and there is no reason you can`t, too......
...more

Bethany`s Notes: Tips on how to make the transition from HS to college more manageable. I believe #5 might be the most important: Remember why you started your sport. When you feel overwhelmed and uncertain how to proceed go back to the basics...your love for the sport.
---
.....Coach Meyer has taken measurements such as "Real Life Wednesdays" where players discuss issues they deal with ranging from life after football, to mental health struggles such as anxiety and depression. The Ohio State football team lets each other know that no one is alone, and that everyone is fighting a battle that people know little about......
.....Urban Meyer's "Real Life Wednesdays" have made clear that no woman or man is an island, (including athletes), and no one is alone through their struggles regardless of the perception that society has created......
...more

Bethany`s Notes: Are you taking time to have your athletes check-in with one another and see how they can support one another? Take the time and make mental health a priority for your team
---
.....Two members of SAAC did not feel comfortable stating their experiences during the group meeting, but reached out separately to speak about it after. Senior Errol Kaylor enjoys the structure swimming provides and believed the swim team does a good job of being there for one another, but he thinks that positivity can be stripped away in competitions....
.....Bowen-Bailey believes that unless mental health is directly talked about on a team, it's never really discussed due to stigma. While Hollis and Medina find a more open emotional support system on their team, that isn't necessarily true across all team environments based on coaching styles and team structures.....
...more

Bethany`s Notes: Experiences from real students. How do we allow athletes to be honest about what they are struggling with but still keep the competition important and real?
---
World Kindness Day UK is celebrated annually, 13th November. It is one full day dedicated
specifically to being nicer to each other, perhaps stopping for a second to be considerate to a stranger, or doing something uber special for friend or co-worker. But kindness can come in many forms, so we take a look back at why even the smallest act of goodwill can make a big impact and the beneficial effects it has on our health....
...more

Bethany`s Notes: In the spirit of the month of November let`s take a moment and remember how important it is to be kind to one another. Being kind can help someone you don`t even know who might be going through a tough time. There are plenty of ways that being kind to another person can help YOU!
---
---
Thanks for your interest in Beyond the Outcome.

Brewster just recently completed her Master`s Degree in Marriage and Family Therapy. She is interested in applying systemic therapies in team and individual settings.
Players are often not only competing with other teams, they also compete with each other for positions, playing time, and, in some cases, scholarship money. These unique team circumstances can lead to conflict within and among team members, including the coaching staff. The need for more information on mental health is essential for both coaches and athletes. This website provides a gathering of information and resources to help serve the sports community.


Brewster is the current cross country/track and field coach for Edgewood College, located in Madison, Wisconsin. A highly decorated student-athlete while at the University of Wisconsin, Brewster has a total of 11 Big Ten championships to her credit. She was an All-American selection six times during her career. Post collegiately, she competed in the 1500m at the 2004 Summer Olympic Trails in Sacramento, CA. Brewster is a USATF Level 1 and 2 certified coach.
...more
Start Week: 43 - Query String:SELECT * FROM sports WHERE `issue` > 43 and volume = 6 OR `issue` > 90 ORDER BY sortorder